Sophie Turner Chugs A Glass Of Wine At Rangers Game, Crowd Goes Nuts: Watch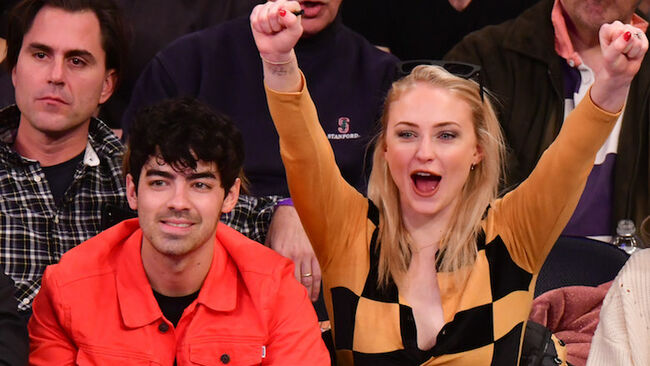 No one sends it like Sansa Stark!
Sophie Turner made the crowd go crazy with a legendary party move at the New York Rangers game at Madison Square Garden on Tuesday night (March 19). The Game of Thrones actress, who attended the hockey match with her fiancé Joe Jonas, found herself on the Jumbotron cam and the attention inspired her to make a major moment of it.
Once all eyes were on her, Turner pepped herself with a few dabs before downing her whole glass of wine, finishing the chug with a fist-pump to the big screen before wiping her mouth clean. As anticipated, the move sent the crowd into a rollicking applause.
"Send it for the starks 🐺@22cory_anderson @barstoolsports @nyrangers," Turner later wrote on Instagram along with the video clip, originally recorded by a fan in the stands who cheered her on with, "The starks know how to send it!!!!"
The audience weren't the only ones impressed by the 23-year-old's epic moment, as celebrities like Drake, Iska Lawrence, and Nicholas Hoult rushed to flood Turner's comments section with added praise. "Wow inspiration for 2020 and beyond," wrote Drake. "Ok you're a legend," Lawrence wrote.
Of course, Turner earned a nod of approval from her future brother-in-law Nick Jonas. "Oh my god," the "Chains" singer wrote, to which older brother Joe replied with only a smiling face with sunglasses emoji.
Watch the epic moment below.